Gartner Report: How to Improve Customer Experiences in Digital Commerce Payments
"Poor customer experience during the digital commerce payment process hampers sales conversion rates and leaves revenue on the table. Application leaders can use this research to identify best practices that will improve the customer payment experience and optimize sales conversion rates."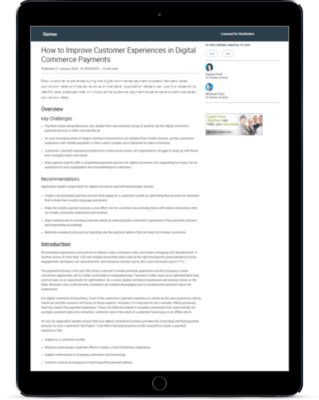 The key challenges that Gartner puts recommendations forward for are:
"Payment needs and preferences vary greatly from one customer group to another, yet the digital commerce payment process is often one-size-fits-all.
An ever-increasing share of digital commerce transactions are initiated from mobile devices, yet the customers' experience with mobile payments is often overly complex and a deterrent to sales conversions.
Customers' payment experience preferences continuously evolve, yet organizations struggle to keep up with those ever-changing wants and needs.
Many options exist to offer a streamlined payment process for digital commerce, but supporting too many can be expensive for your organization and overwhelming to customers."
¹ Source: How to Improve Customer Experiences in
Digital Commerce Payments, Dayna Ford, Michael Chiu, Gartner, 8  May 2021
Disclaimer: GARTNER is a registered trademark and service mark of Gartner, Inc. and/or its affiliates in the U.S. and internationally and is used herein with permission. All rights reserved.
Access your download
To read the Gartner report on How to Improve Customer Experiences in Digital Commerce Payments, fill in your details for complimentary access to this report. No Spam.
Explore a collection of guides, eBooks and other resources that share Digivante's thought leadership on Digital Transformation and QA-related topics.