Convert
The conversion optimisation Ecommerce analytics tool by Digivante
Instantly see where you are leaving revenue on the table
The conversion rate for your website can be vastly different depending on the device and browser your potential customers are using.  
Do you know your online conversion rate on Mac Desktop for Safari and Chrome users? Or how about on Samsung 10 vs 9.  
We commonly see similar devices and browsers convert over 50% worse than others. If you're not testing on them or not analysing at a granular device level this black hole will be costing you incredible amounts of revenue.  
Find out exactly where your ecommerce site is underperforming and how much this is costing your organisation each week in lost revenue with Convert's analytical insights tool.  
Identify exactly on which platforms, devices and browsers conversion is much lower than it should be, thanks to in-depth analytics and actionable insights. 

The solution & opportunity
Identifying where to find what hinders your ecommerce site by analysing the specific devices, browsers and conversion funnel stages, is the fastest and most effective way to boost conversion rates and increase revenue.  
Convert is a powerful analytics and insights tool used by the Digital Experts at Digivante to rapidly analyse, identify and display what could undermine your ecommerce site conversions. Whether it is a usability issue, a lack of speed and performance, or hidden errors, defects and anomalies, our teams of expert testers act with precision and focus on delivering the greatest impact, at pace. 
Benchmark your business
See how you are performing compared with other (anonymised) Convert users in your sector against criteria such as user conversions, user conversion rate, bounce rate, average order value and even the cost per conversion through pay-per-click 
Identify risks and opportunities
Using sophisticated calculations and built-in algorithms, Digivante's Convert tool presents you with a clear visualisation of how much money you are leaving on the table, weekly, monthly, and annually, based on common platform/device/browser combinations that are your best and worst performers.
Focus testing resources on delivering the greatest impact
Rapid, effective testing, with results monitored for accuracy and completeness.
Track trends and understand visitor behaviour
View an instant dashboard visualisation of performance and trends from your site over a chosen timeframe. Then drill down to explore anything that warrants closer inspection. 
"Fixing the critical issues indicated by Digivante's Convert tool saw an astonishing 35% uplift in conversions, in less than four weeks". Claire's
"Once the issues were resolved, conversions immediately jumped 9%". House of Fraser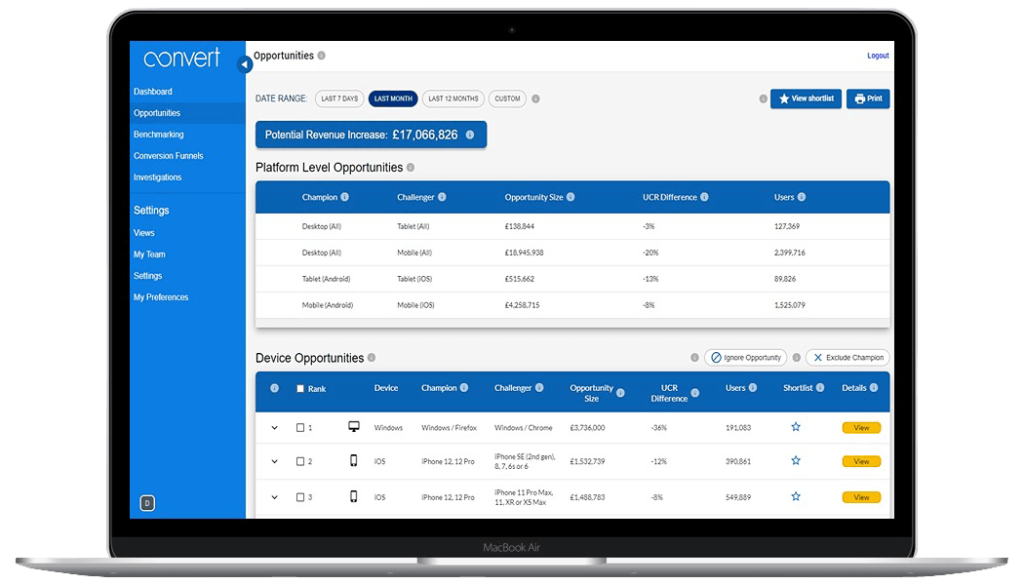 How it works
Convert enables deeper analysis of your Google Analytics (GA) data for user behaviour on your website across the different devices and browsers used by your customers, uncovering insights and revenue opportunities well above and beyond Google Analytics.  
The Opportunities section enables you to compare your best performing devices against your lesser performing ones and see an overview at platform level. This can help identify problem areas on your site for users of different devices or browsers. 
The Benchmarking section enables you to see your performance against the anonymised sector benchmark and the leading sites. It gives valuable insight into your comparable performance. 
The Conversion Funnels section enables you to compare the performance of platforms and OS within your site, enabling you to better understand comparable performance and potential hidden killers to your revenue stream.