Conversion rate optimisation (CRO) has become a central concern for ecommerce brands in recent years and spawned an entire industry of consultants, tools and software solutions that have promised to take the CRO headache away from ecommerce teams.
Read our how to protect and grow your website conversion rate eBook here.
But what's really the best way to identify conversion failures and opportunities, as well as continually optimise ecommerce conversion rates on your websites and apps?
What is CRO?
Conversion rate optimisation is the process of increasing the percentage of visitors to a website or mobile app who perform a desired action. This generally means converting more browsers into buyers and has become a key indicator of ecommerce success.
Why is CRO important?
Improving conversion rate optimisation should mean you are creating more satisfying customer experiences, driving more value from your digital real estate and increasing profitability overall.
What is a typical conversion rate?
Typical conversion rates for websites or apps vary according to sector. In 2019 conversion rate across all ecommerce sectors and by all devices was recorded at 1.71%.
But conversion is obviously more difficult to achieve in some industries than others. Grocery sites can record conversion rates of anywhere between 3.5% and 7.24%, whereas sites selling high-value products, such as holidays or big-ticket electronic items (where purchase represents a bigger commitment) may naturally see less.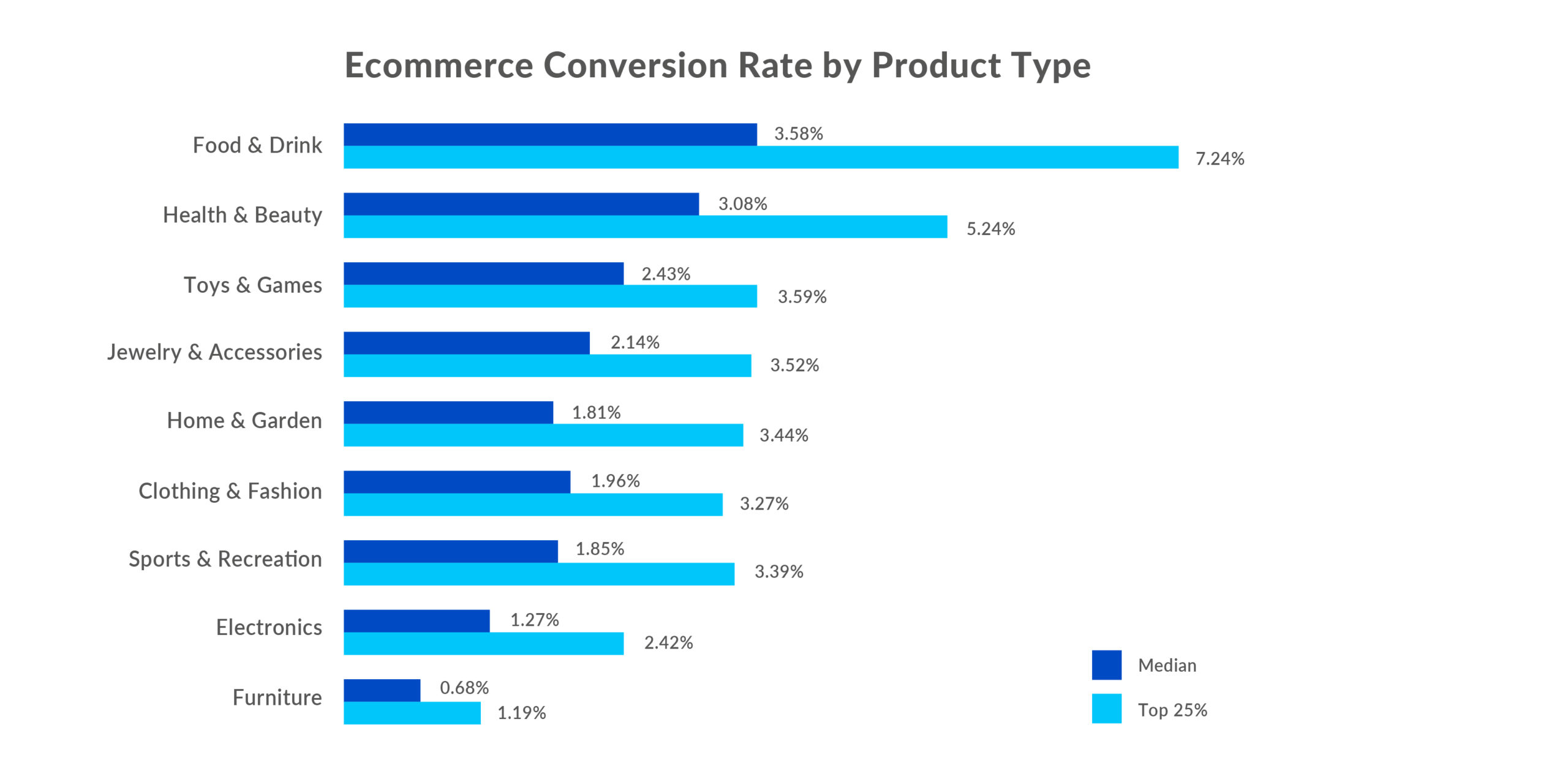 But conversion rates are also a function of a range of other factors, including geographical location.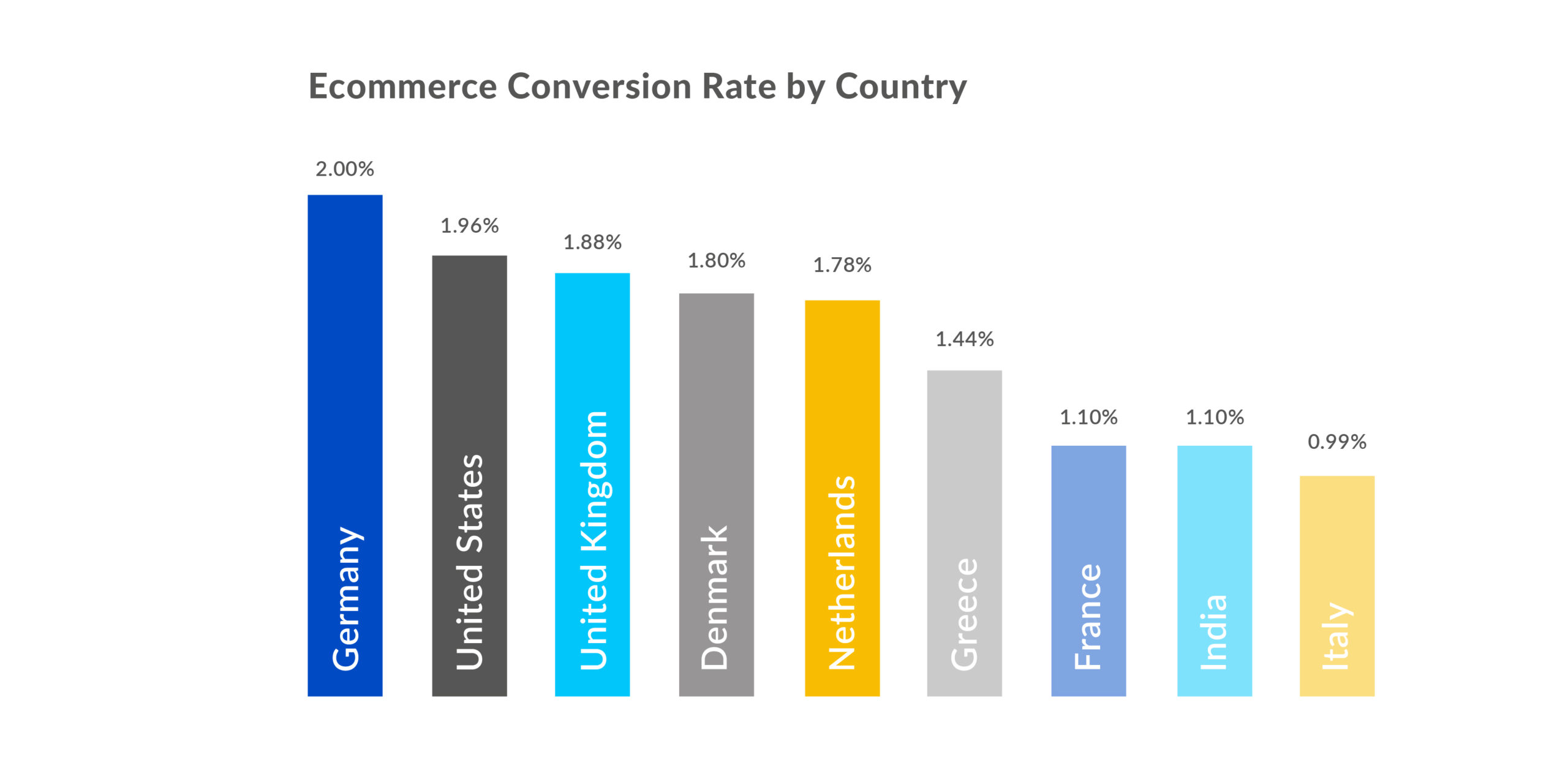 The types of devices being used by consumers and their preferred operating systems: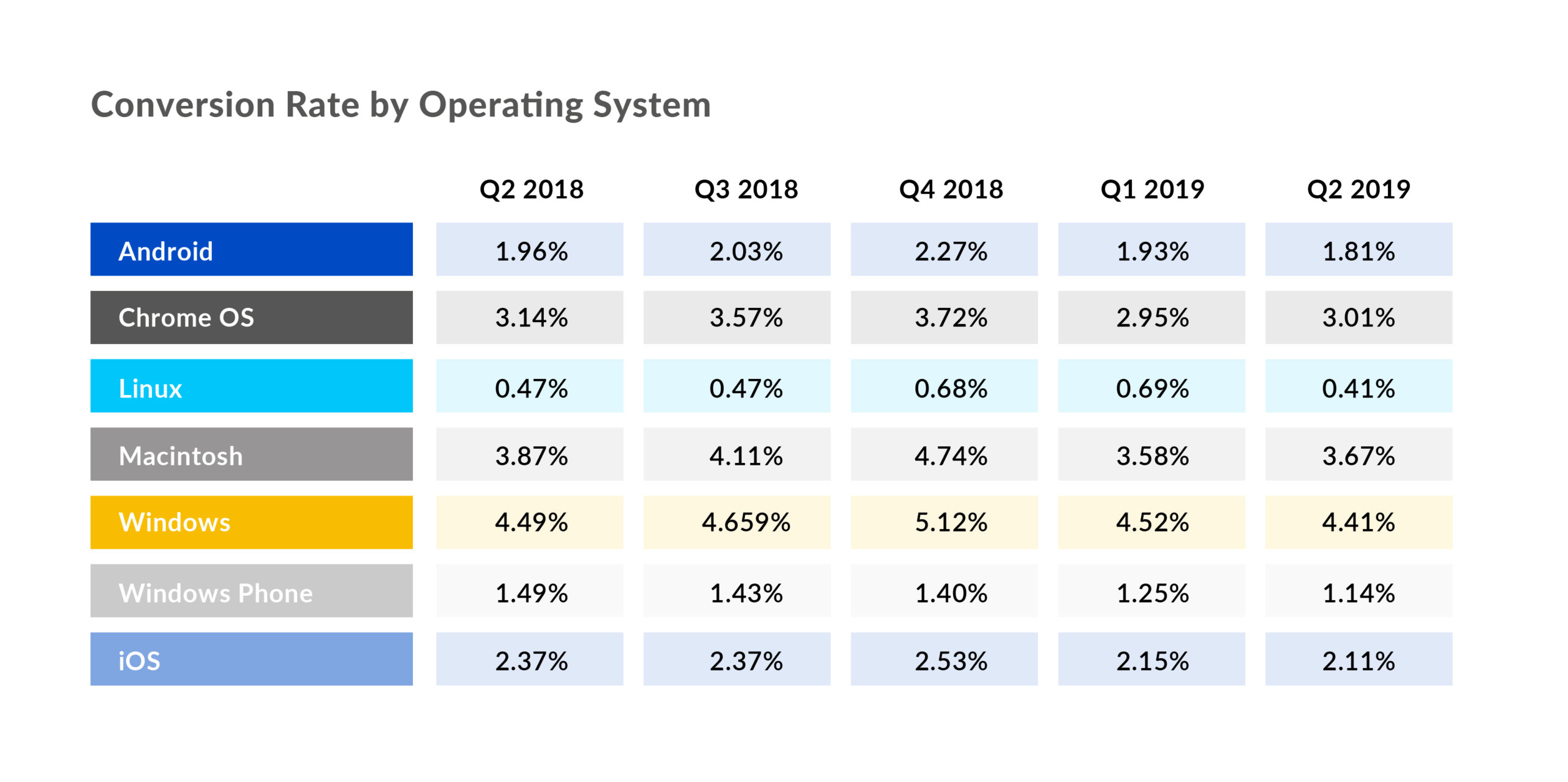 Source: https://www.smartinsights.com/e-commerce/e-commerce-analytics/e-commerce-conversion-rates/
But complicating all of this is the way these factors – and demographic differences – influence our responses to the specific functionality and design of websites and apps.
Fragmentation is one of the biggest CRO challenges
When it comes to brands working out what factors are influencing conversion rates and acting to improve and optimise them – it's a multi-dimensional puzzle.
With over 9000 distinct devices in the global marketplace today, 21+ different operating systems and 8+ major search engines powering hundreds of different browsers – there is a huge amount of potential for device-specific issues and sub-optimal user experiences to be happening and for an ecommerce team to know nothing about them.
Concealed in broader metrics, conversion problems related to single handsets or even a single vital demographic group can easily go unnoticed and uncorrected without effective testing strategies in place.
What is really influencing conversion?
The challenge of device coverage is well documented. But getting to grips with how it is impacting purchase behaviour and conversion is the real challenge. And it's one that only real-world testing underpinned by the right analytics can properly address.
CRO consultants and agencies- with their promise of sophisticated A/B testing programs, software and other tools, often don't bring the most fundamental of all insights to the table. The insight that stems from site and app testing at scale, with device combinations and human testers that reflect the real world make up of your audience.
These are the insights that can isolate the actual functional, usability and performance factors that are impacting your ability to turn digital visits into sales and other conversion events.
Find out why your existing conversion rate optimisation strategy isn't helping you to meet your KPIs.
Functional, usability and performance testing should drive CRO
Done right, these three types of testing can power a brand's CRO decision making in a meaningful way through organised, actionable, real world insight. They can form the crux of an ongoing strategy for continual conversion improvement that should be the priority for every ecommerce brand.
1. Functional testing
With new functionality being added to ecommerce sites and apps all the time, there is always the danger of unexpected issues emerging that will affect conversion performance.
These include problems with new functionality itself, as well as regressions in other areas of the site that might follow the introduction of new code.
One development house has recorded the real world cost to retail clients of just a few kinds of issues emerging on their websites and apps:
Tablet users choosing a consumer survey were prevented from purchasing on a site – cost of impact – £1.3m
A search feature failed to find the correct product – cost of impact – £950k
Home delivery option could not be selected on desktop browsers – cost of impact – £625k
Completing a purchase didn't work in IE10 or earlier versions – cost of impact – £600k
The pace of new releases and the sheer size of the digital real estate they have to manage often makes it difficult for e-commerce brands to understand where to start looking for the functional issues that might be causing them the most financial damage.
Often, they lack the time, resource and tools to manage this process dynamically and cost effectively.
But maintaining and optimising online sales conversion rates is all about continually testing for and correcting these problems both before/after new updates and features have been released. The commercial stakes are now really too high to fudge these processes or let them slide.
The right testing tools can help brands identify and calculate potential revenue loss by browser and device type, helping test teams hone in on problem areas to investigate. Analytics and human testing can then combine to isolate and prioritise issues that will drive conversion rate optimisation.
2. Usability testing
Fragmented audiences exhibiting very different kinds of user behaviours are showing up the myth of the 'one size fits all' conversion optimisation strategy.
Research shows that for older customers 'trust' and accessibility issues trump other considerations around purchase journeys – while for younger demographics the seamless integration of e-wallet features may be the deciding factor in their willingness to buy.
These different priorities may be reflected in the conversion stats for different kinds of ecommerce businesses and it may be difficult to disentangle them and the influence they're having.
So, how do you know what your customers are really thinking when they use your site? How can you tell what design choices and usability factors are really driving their decisions to buy or leave?
Usability testing at scale, with demographics that match your typical customer profiles, can bring exactly that insight direct to your commercial team.
Being able to mobilise a large cohort of testers in the right demographic, using the range of devices that the audience typically possess, will bring specificity to your CRO tactics. Having those reports illustrated with screen shots and videos showing the issues experienced 'in the wild' will help you understand and prioritise fixes more easily.
3. Performance testing
How much ecommerce business is lost due to sites slowing down and crashing during website and app sessions? Conversion rate can be severely impacted by sites and infrastructure unready for the surges in traffic that come with sudden PR exposure, seasonal spikes, or even a flash sale.
American multi-brand retailer J.Crew, for example, experienced the negative effects of a website un-optimised for excess traffic on one of the most crucial retail days of the year. On Black Friday 2018 their load times ranged from 30 seconds to several minutes and these issues reportedly cost the retailer $700,000.
How does testing help?
Done right, with the right combination of test scripts, devices and browser types, manual load testing can reproduce these moments of stress in a much more authentic way than synthesised load testing.
They can give you precise data about where sites are likely to slow down and perform strangely. They can show you the conditions where speed and quality are taking their toll on revenue, giving you the information and data you need to correct and optimise for more seamless customer experiences.
Being able to handle and respond to traffic spikes is all part of developing a comprehensive conversion rate optimisation strategy.
Why manual testing is key to CRO?
Manual testing is key to isolating and managing the ever changing functionality, usability and performance issues that often (and in impenetrable ways) can impact website and app conversion rates.
Ordinary website analytics can easily conceal device and browser specific issues in wider metrics. At the same time, ordinary testing solutions can sacrifice quality and thoroughness of insight for speed. Meanwhile, manual testing by smaller QA teams, or advice from CRO consultants can ignore the subtleties of user behaviour by different demographics that may hold the key to optimising conversion rates.
By contrast, the best crowd sourced testing solutions can deliver ongoing functional and non-functional testing at the speed and scale that reflects the pace of change in your business. They can deliver actionable results to ecommerce brands that result in the fixes that drive conversion and revenue continually upwards.