Expanding global opportunities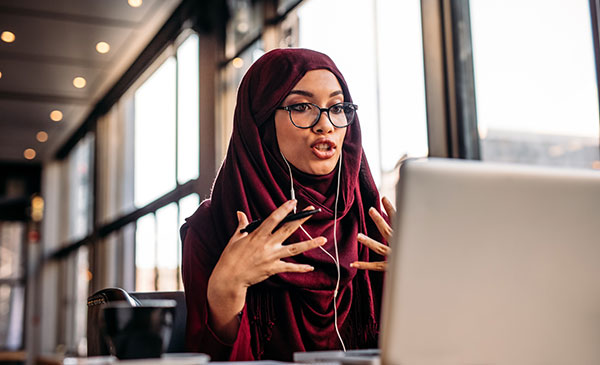 The digital global opportunity brings distant and lucrative new markets tantalisingly close. But can your website and apps deliver the conversions you want in the targeted regions?
Localisation is paramount for ensuring a seamless experience for your international customers and users. Your website or app must reflect the prevailing culture and conform to specific local standards and usage.
Even something as apparently trivial as incorrect or unfamiliar date/time formats or numeric and currency values can create dissonance in the mind of the consumer, who is likely to halt their journey amid concerns about supplier credibility and the provenance of the website they are viewing. This reduces conversion rates, impacts revenues and halts the global expansion of your brand footprint, undermining the substantial investment required to build a global online brand.
Brands who want to break into new markets must ensure their offerings work on the ground, with continual optimisation to deliver the best results with potentially new and unfamiliar customer behaviours.
"Our global customers have different demands. We want products to 'feel local' and to support features that may be unique to specific markets. As we specialize our products for certain markets, it introduces more challenges for testing – like requiring special cultural knowledge."
Google
The unstoppable rise of mobile commerce
The mechanics of buying online are changing: m-commerce has witnessed an immense surge in popularity. A landmark event was cyber weekend 2019, when industry news site Internet Retailing declared that Black Friday in the UK was mobile, with 71% of shoppers purchasing via their smartphone.
Meanwhile, out of all the orders placed online globally, 56% came from mobile devices, up 35% on the previous year, according to software vendor Salesforce.
71%
UK shoppers purchased via their smartphone on Black Friday 2019
56%
of Black Friday 2019 online orders came from mobile devices
35%
increase in Black Friday mobile purchases year on year
The impact of m-commerce in creating vast commercial opportunities cannot be overstated. With payment options built into phones, impulse buying has never been easier. However, many B2C enterprises are not realising the massive potential of m-commerce because of the complexity of optimisation requirements across an ever-expanding range of mobile devices, with fragmentation of operating systems (and their variations), screen sizes and more.
Yet all the while, every single mobile user expects a website or app to deliver a streamlined, intuitive experience on their chosen platform.
A 'mobile first' approach is now paramount. Are mobile experiences being tested in different, suboptimal conditions of connectivity? Is usability testing reflecting the device/browser combinations favoured by the target audience?
"Around half of all organisations have now been applying agile practices for over three years as a methodology for change and transformation."
Consultancy.eu, May 2020
"Dependable quality assurance and testing have always been of high importance – but we are currently witnessing times when they will be absolutely, make-or-break, crucial."
World Quality Report
You might also be interested in…
Preparing for peak periods in the ecommerce calendar
We've distilled years of Digivante experience into essential actions for any ecommerce business preparing for a busy period – whether you're working around high points in the retail calendar, launching a new product or planning for seasonal variations.
Testing times: what are your options?
Clearly, optimisation cannot be based on a series of hunches. So, what are your choices in protecting and optimising conversion rates and ecommerce revenues? Whom can you trust to deliver the real world insights that protect and optimise your conversion rates?
You may have invested significantly in SEO consulting, but SEO won't bring the desired returns if customers cannot do what they need to do, and expect to do, once they've found you.
Is testing in-house practical?
In ecommerce, the advantage is to the first movers, the innovators who are committed to continuous improvement. Agile development, with ever-accelerating development sprints, is essential to supporting rapid innovation.
Alongside this, testing also needs to be agile to uncover high-priority issues earlier and faster. To reduce the risk of late fixes and increased costs, testing has to become a 24/7/365 operation, with a constant loop of actionable feedback between developers and testers during development.
Testing should go hand in hand with optimisation, but the challenge can often be too great for lean businesses, causing the process to become piecemeal. In stretched QA teams, testing and optimisation become reactive ad hoc activities, possibly conducted only in response to user complaints – if users even bother to report a fault.
Moreover, in-house testing teams often lack the resource and time to conduct comprehensive exploratory tests. Testing may be regarded as a one-off activity, whereas it should be planned in at every phase of a delivery and regularly undertaken to inform future optimisation efforts.
It is a rare enterprise with the in-house testing capability to:
Test at speed to meet ever-accelerating development deadlines
Test on a scale sufficiently broad to reveal defects on a range of platforms to provide a consistent

experience for the majority of users

Perform localisation testing with knowledgeable on-the-ground coverage in the areas where the brand operates
Keep up to speed on specialist issues, such as the changing regulatory framework for accessibility
If the responsibility of testing falls on the shoulders of the software developers, they are faced with the task of 'marking their own homework' and may overlook faults that would be obvious to a fresh eye. Testers viewing the same site over and over again on multiple devices or web browsers begin to see what they expect to see and miss critical defects – a phenomenon known as 'browser blindness'.
If testing falls on the shoulders of software developers, they are faced with the task of "marking their own homework."
The emulators typically used for in-house testing, tell only half the story. They can't properly replicate the touch screens or hard and soft keys of mobile devices, the less-than-ideal conditions of use or the subtleties of the many operating systems versions on the market today.
Against this backdrop, many businesses adopt a policy of 'push and pray'. To avoid the ongoing impact of a delay to the release, they push it out, minus thorough testing, and simply hope for the best.
"Digital business is driving a faster pace of delivery to support the continuous delivery of incremental changes. Traditional testing teams cannot meet this pace nor the expanded view of quality required."
Gartner
Is test automation the answer?
While, in theory, automation should significantly accelerate the testing process, in practice there's an investment of time and effort to get it up and running. When it returns a fail, results must be analysed and the tests re-run manually to confirm the existence of an issue and identify the root cause before it can be remediated. This means more work for overstretched project delivery teams.
Another drawback is that automation doesn't allow for a change in business focus. If, once the script has been coded, you change focus or make an addition, you need to begin all over again. So if you are releasing twice a month, automation can in practice slow down the process, especially in the short to medium term.
That said, automation does provide a long-term solution to regression testing. Over time you can build a robust pack, with confidence that the fail results are real defects needing to be fixed. The pack can then be executed thousands of times out of hours without impacting your timeframes.
To sum up, neither automation nor manual testing fits the bill entirely. Logic suggests a combination of the two would be a winning solution. However, in most cases, companies don't have a sufficiently large QA team to cover the gaps while automation is being ramped up.
Outsourcing to professional testers
Real-world professional testers can bring high quality insights on a cost-effective and impressive scale. In some cases, thousands of testers can be made available, shrinking functional and non-functional testing time from days to hours.
If a scalable testing function is available 24/7/365, cycles of continuous deployment become feasible. New functionality can be quickly tested, fuelling constant, incremental improvements in quality.
Supported by outsourced testing resources, QA teams can firstly use analytics to identify areas of weakness, and then run ongoing regression, functional and exploratory manual tests at a scale and speed aligned with the overall pace of innovation.
Criteria for choosing a testing partner
Where there is a high level of technical and sector expertise, as well as the required range of physical hardware to conduct thoroughgoing tests, professional testing companies can easily eclipse most in-house capabilities.
Look for a testing partner who can provide
An appropriate testing strategy and best-practice testing approaches
Ongoing testing to match the pace of release and innovation
Cycles of exploratory testing with expert testers
International reach and coverage (for brands with global growth plans)
Analytics to identify leaky browsers and losses
Manual regression tests conducted at scale and speed across devices and OSs
Video capture of steps to illustrate issues and verify defects
Systematic identification of defects and issues, with prioritisation for action by developers
The capacity to augment your team, support your testing efforts or meet ad hoc requirements
Choosing the right testing partner will mean replacing, "What just happened?" with alerts to potential problems and a clear vision of the next steps to maximising sales and revenue. Ultimately, this will help you deliver greater operational efficiencies, more conversions and more revenues with less effort.
Tests to help raise your conversion rates
Any issues impeding purchase, engagement and adoption create a significant risk of wasting your investment in software development.
There is no substitute for real-world testing by testers who use your software in the same unplanned way that real-world users do. Coming fresh to your projects, they uncover what's going on in a complex environment of continuous change, updates and deployment.
Broadly speaking, tests fall into two categories:
1. Functional testing
Functional issues are defects preventing completion of vital user journeys. They lead to baskets being abandoned and customers being stuck in loops or thrown off websites altogether.
Inappropriate redirects, 404 pages, incorrect filter results and checkout issues can all seriously damage revenues and reputations. Functional testing identifies these kinds of issues using non-disruptive methods and then orders them according to severity using impact analytics.
Depending on the project and client requirements, lesser issues might be classified as suggestions, escalating to those flagged as affecting conversion if they block the user from continuing their journey.
Testers work at scale on a range of real world devices and browsers. They can quickly uncover where certain specific browser, device or operating system issues are present, and they can replicate real human behaviour much more effectively than automation solutions.
2. Non-functional testing
This is where testing by real people excels. Non-functional testing includes the usability, performance and exploratory testing that brings profound customer insight to brands.
"A website that isn't easy to use or understand… can result in lost sales, squandered internal resources and damaged brand reputation — costs that are too high for companies to absorb."
Gartner
Usability testing
Website usability testing typically covers how easy it is to navigate the site, the efficiency of performing desired actions, the number of errors the customer makes in pursuing those actions, the level of satisfaction and how memorable, in a good way, the experience is.
Usability testing will flag up illogical, confusing or unclear parts of the customer journey, and pick up on reactions to colour and other design choices for future optimisation.
Professional testing companies should offer real-world testers matching your target demographic. Testing feedback then reflects the behaviours and opinions of the people who matter most to your bottom line.
Conducted at scale, on relevant device and browser combinations, testing should be able to quickly script and mobilise the right-sized test group (from the appropriate demographic) to uncover the shifting and specific UX problems that are impeding revenue growth.
Iterative usability testing is central to assessing the impact of changing designs and customer journeys of ever-evolving feature-rich ecommerce sites. The insights delivered help you make the right changes where they matter most.
For example, research by the Baymard Institute, an independent web UX research institute, shows brands can increase conversion rates by over 35% solely through better checkout design.
Localisation testing
As brands become more focused on international opportunities, it's vital to have devices on the ground and real people with local knowledge spotting conversion issues, such as:
Different payment solutions prevail in different territories – common problems with integration need to be identified and remedied
Translated content must be clear and culturally aware – translations rendered on local sites must not distort boxes, stretching them or making them unreadable
Inappropriate, insensitive or offensive content carried over from other sources must be identified as a priority
Localisation testing will be continuous as the speed of new releases of functionality increases and local conditions change.
Performance testing
Retail red letter days such as the cyber weekend, as well as unexpected news events and trends emerging overnight, can drive unpredictable spikes in traffic to your website.
Human performance testing can concentrate on specific areas to ensure a site can cope with high levels of concurrent traffic with ease. A mass test on the payment section of a site can mimic the effect of a flash sale or other rush to your website, as the effect of multiple and simultaneous real-world payment attempts are noted.
Effective stress testing like this should also let you isolate variables in order to determine the ability of your site to cope with particular events:
Isolating all traffic to one particular geographic region
Isolating performance across multiple browsers, platforms and devices
Isolating the speed of image loading on specific devices and browsers
Exploratory testing
Exploratory testing gives qualified, professional testers the freedom to apply their creativity, product awareness and industry knowledge to uncover defects and possible usability issues.
In scripted testing, test cases are designed first, followed by test execution. In contrast, exploratory testing is a simultaneous process of test design and test execution. It allows teams to replicate real-world behaviour and decision-making beyond a script, to take a thought wherever it leads them and help developers identify areas of weakness.
Exploratory testing creates a constant feedback loop between testers and developers. It requires a high level of skill and is a vital component of agile development.
Finding a professional testing partner who can deliver the full range of functional and non-functional testing in scripted and exploratory contexts can be key to unlocking the full commercial potential of your site.
Accessibility testing
Colour contrast, screen reader capability, keyboard navigation, call-to-action identification and captions are all outlined in the Web Content Accessibility Guidelines (WCAG 2.1) guidelines, providing a single shared standard for web content accessibility.
An accessibility audit demonstrates your commitment to continuous improvement in this area, while professional testing by experienced specialists supports your compliance with the legislation around accessibility while improving the experience of all users.
Ideally, an early-stage review gives you a firm foundation for future web and app development, but it's never too late to take action on accessibility, as a mid-life check or ahead of a significant release.
Digital experiences are the new battleground
A feature-rich, constantly refreshed website creates a buzz, generating new opportunities for marketing engagement. Incremental changes, better informed A/B testing and increased personalisation make a huge difference to the bottom line.
With continual development potentially degrading performance, it's more important than ever to keep on top of testing, to ensure quality keeps pace with the velocity of delivery and deployment and to prevent well-intended updates and changes decimating revenues.
The stakes are high. Today's consumers feel no obligation to be patient when so many companies are vying for their custom. For its report The Future of Customer Experience, PwC found that 1 in 3 consumers will reject a brand, even one they love, after just one bad experience, while 92% would completely abandon a company after two or three negative interactions. They leave, never to return.
To lever the strategic benefits of testing requires a flexible approach that cost-effectively supports ongoing cycles of manual regression and other critical, functional testing. This, in turn, will allow in-house QA functions and digital teams to become more strategic, to focus on devising testing scripts, coordinating exploratory testing, and implementing conversion rate optimisation, rather than being caught up in never-ending rounds of testing.