Colour Accessibility & The Importance Of Accessibility Testing
Accessibility has become a hot topic in the digital world. As users demand more access to features which comply with the UK WCAG 2.2 laws, and businesses financially benefit from the £249 billion per year spent by members of the purple pound, accessibility is the term on everyone's lips.
Focusing on colour accessibility in the digital world, we break down how colour affects your conversion rates, examples of how to cater your website to be more accessible and the revenue boom you can experience after implementing our top tips.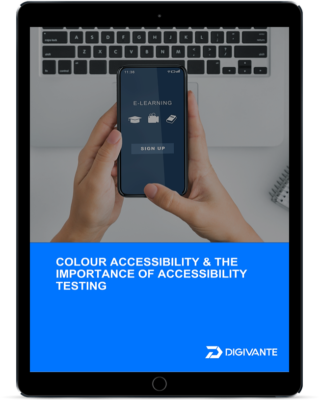 This eBook will help you understand:
Colour Accessibility & Web Design
How colour affects your conversion rates, with examples
Accessibility Features
How can you improve your website's accessibility features
The Bigger Picture
In our lifetime, over 70% of us with internet access will require accessibility features
Next Steps
How to implement a strategy that ensures accessibility across your entire website or app
Access your download
Complete the form below to access your download.
Explore a collection of guides, eBooks and other resources that share Digivante's thought leadership on Digital Transformation and QA-related topics.