The last few months have hit businesses hard. Retail sales in April 2020 fell by a record 18.1% and, with consumers in lockdown, several sectors suffered abrupt revenue declines.
But there is light at the end of the tunnel. The Bank of England has pledged an extra £100bn for the UK economy to curb the "unprecedented" coronavirus-induced downturn.
We're already seeing signs of positive change with our latest research too, which reveals the first green shoots of recovery emerging for some of those worst-hit industries and businesses.
New research from Digivante
Digivante has pulled together its digital data from May 2020 and compared it against May 2019 and April 2020.
The resulting infographic tracks the effect of Covid-19 on specific industries – highlighting where the first signs of change are appearing for hard-hit sectors. For this piece of research, we collected Google Analytics data from more than 100 retail, travel and financial brands.
May 2020 compared to April 2020: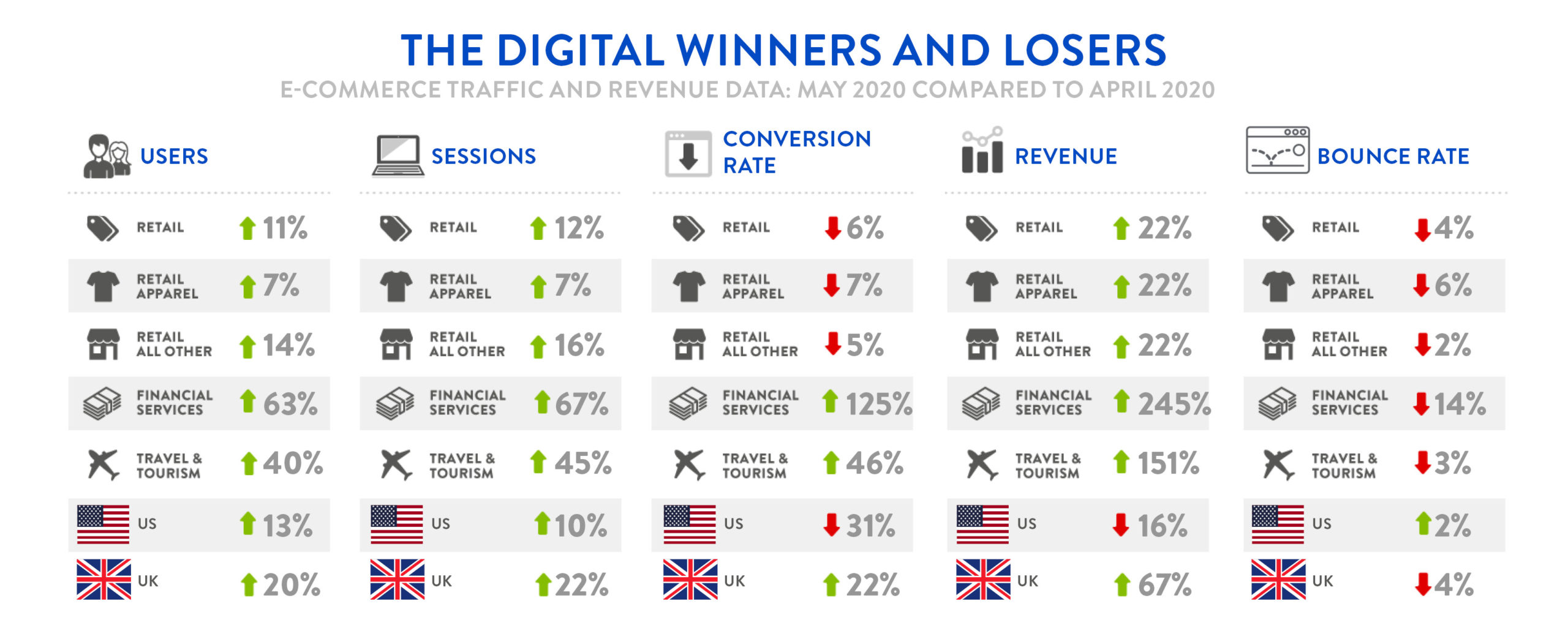 *Google Analytics Data on over 100 retail, travel and financial services brands
May 2019 compared to May 2020: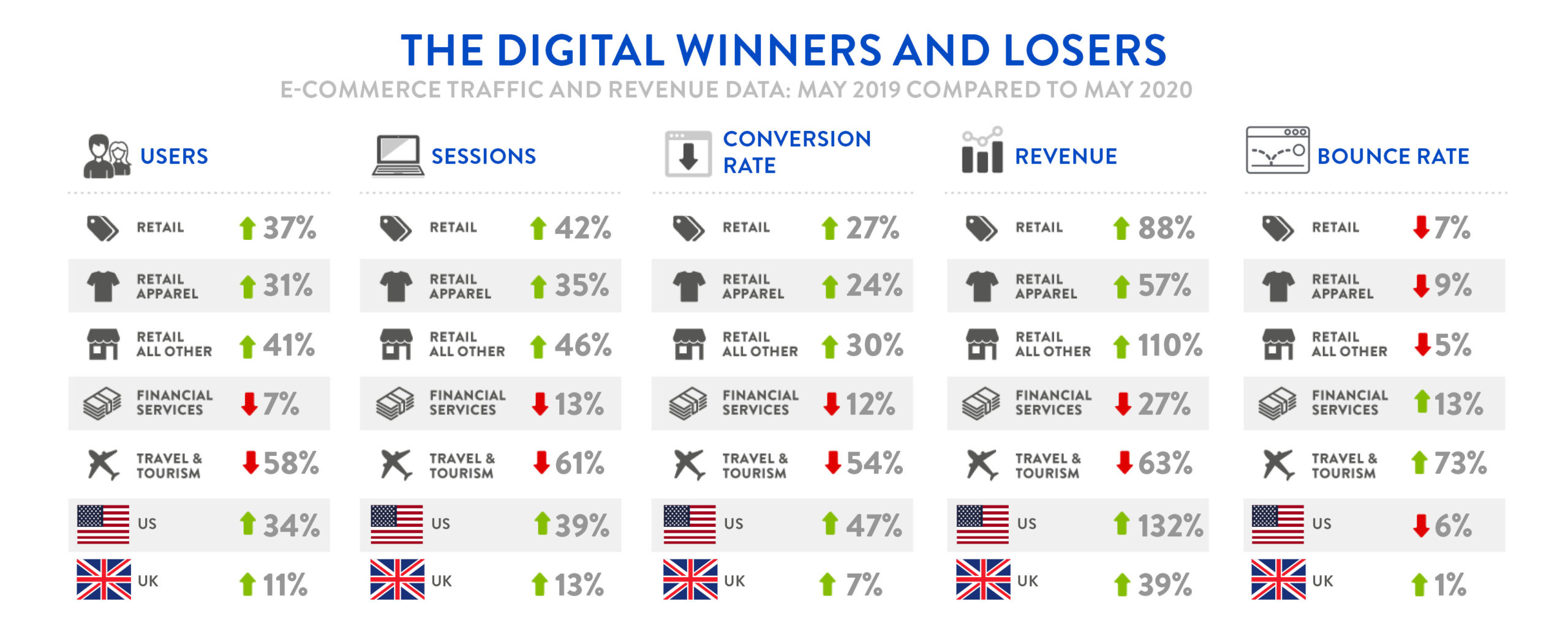 *Google Analytics Data on over 100 retail, travel and financial services brands
Travel companies and financial services are starting to see an upturn in their online services, as consumers start to gain confidence in the market and see an end in sight for lockdown.
However, the retail sector has seen a slight downturn, which could be the first signs of consumers returning to the high street.
But our wider analysis shows some businesses are still struggling in the current climate, despite growth in other areas. It's a mixed bag.
First steps into the world
We're starting to see signs of the world leaving lockdown. In the financial services sector, insurers are seeing renewed interest in their businesses – particularly for travel and driving insurance.
What's more, a self-catering holiday specialist has reported significant growth in May 2020, compared to April, with a more than 300% revenue increase.
This steady increase within these areas is likely to continue for the subsequent months, with the UK's coronavirus alert level recently reduced.
The FTSE100 index is also showing signs of recovery, following a sharp fall in March 2020, which should further bolster the financial services market and wider UK economy.
However, it's not good news for everyone. International travel agents and other tour operators continued to see significant losses in May 2020, compared to April, as travel to foreign countries continues to be restricted.
Thanks to ongoing social distancing, the coach industry has been particularly hard hit – with some operators seeing their revenues drop to practically nothing.
Has ecommerce hit its peak?
The ecommerce sector has had a bumper couple of months, with demand for services growing rapidly in a short space of time thanks to stringent lockdown measures.
While, several retailers have continued to see revenue increases of the order of 50% for May compared to April 2020, there are initial signs of a downturn in this area.
This is, maybe, an expected consequence as the world starts to return to normal. The recent pace of growth is unsustainable.
Also, in June 2020, non-essential shops in the UK have resumed business with social distancing measures in place, so this downward trend is likely to continue.
We've also seen a significant revenue downturn for one major arts and crafts suppliers as lockdown eases, signalling a change in how people are spending their leisure time.
For the love of DIY
Many DIY stores and garden centres were allowed to reopen in May in the UK. According to figures from the Office of National Statistics, UK sales were boosted by a 42% rise in household goods stores, such as hardware, furniture and paint shops.
But this also seems to have stimulated online spending in these sectors as well.
One online bathroom specialist has reported a 340% revenue increase in May 2020 compared to April. Another furniture supplier has seen a rise of more than 100%.
Maybe lockdown has made us all a nation of DIY enthusiasts?
Falling bounce rates
Another interesting trend in the April versus May 2020 figures is a fall in bounce rates for every industry – a total reduction of 4% across all sectors we looked at.
The financial services sector fared particularly well – with a bounce rate reduction of 14% and an overall revenue increase of 245% between May and April 2020.
In conclusion
Thanks to the changing Covid-19 landscape, the online world is also starting to change with some industries seeing a return to business as normal.
However, other organisations will start to see a fall in business as we return to our high streets and normal lives.
Did you miss our last blog? Revealed: The Covid-19 impact on ecommerce over the last three months.