As lockdown hit the nation towards the end of March and tighter restrictions on movement began to bite, it became clear the country would be increasingly reliant on the digital economy for our day-to-day retail needs. But who have been the ecommerce winners and losers of lockdown Britain?
New research from Digivante
Digivante has put together some highlights of the available digital economy data from March 2020 and compared it against traffic from March 2019. The resulting infographic tracks the effect of Covid-19 on certain ecommerce categories and sectors – asking where the greatest digital losses have been suffered and where the opportunities for improving customer experience might still lie.
For this piece of research, we collected Google Analytics data from over 100 retail, travel and financial brands.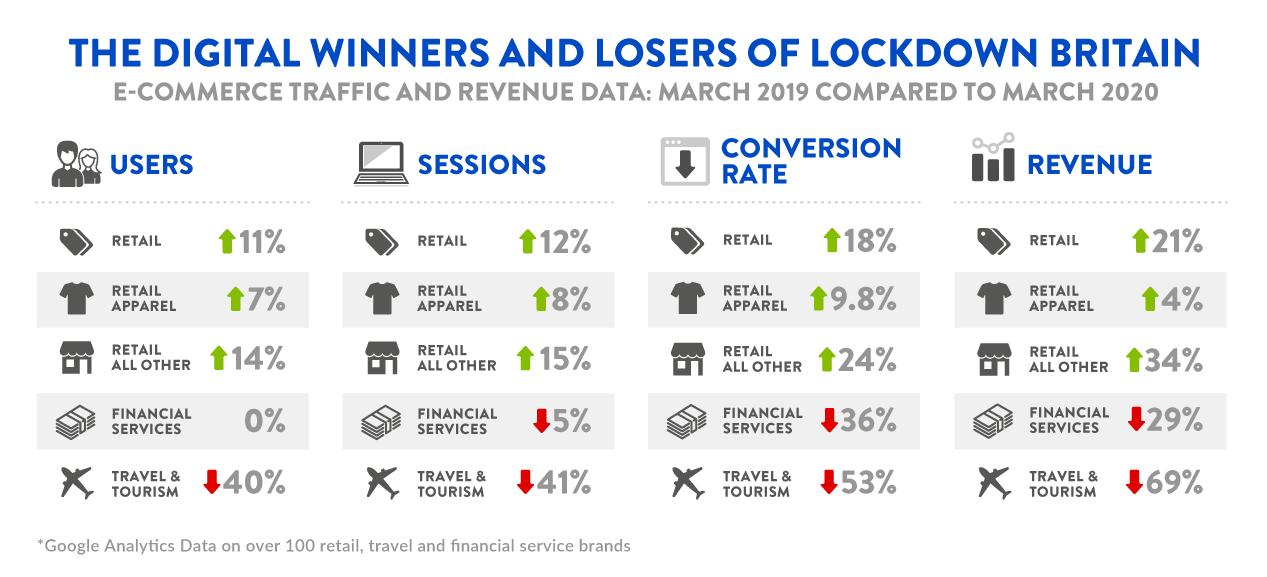 It can't be any shock that travel companies and financial services have suffered abrupt revenue decline during the lockdown, as holidays and mortgages are cancelled or put on hold. Nor is it a great surprise that ecommerce retail sites are generally booming.
But our wider analysis shows that while ecommerce retail has boomed, some areas have been more successful than others.
The race to innovate
In the weeks following lockdown, we've seen retail ecommerce brands racing to innovate as extra (and often unprecedented) demand for services have grown rapidly in a short space of time.
As Covid-19 closed down bricks and mortar shops, brands such as John Lewis rapidly introduced new online consultancy services, while new delivery and return restrictions added fresh complexities to buyer journeys. Next were forced to close down online operations altogether after being flooded with orders, reopening later with an updated and re-optimised website better able to cope with the new demands being made of it.
Digital experience is a new focus for retail
Looking at the stats for retail, it's clear that the quality of digital experience has become increasingly important during lockdown, as we've seen sessions and users ramp up exponentially. But conversion rates in retail apparel have lagged behind other categories. This has urged some brands to start focusing on other content offerings in a bid to maximise dwell time and deliver more sales over time.
As the Draper magazine reported in April:
"Young fashion womenswear brand Missguided… is offering at-home workout videos in its app during the lockdown. The "Swipe to Hype" feature on its app, meanwhile, encourages users to browse through different items in the manner of a dating app – gamifying the shopping experience to engage its users."
Rapid development requires more rapid testing
The fast tracking of new features and functionality like these has meant brands are adopting shorter and more intense development sprints to meet customer demand.
And what's clear from all of this, is that there's never been a more important time to ensure these new digital functionalities are tested and able to cope, properly, with the additional stress.
In apparel retail, even in dark times like these, there is an opportunity to keep serving and delighting customers, but there's a growing, parallel risk of letting them down when they want to interact with you most.
New benchmarks for analysis and optimisation
Digivante's new research presents some powerful benchmarks for many sectors – an indication of the performance stresses as well as the increased functional and usability expectations that many ecommerce teams are facing.
They represent opportunities for improvement that could benefit businesses and their customer's alike. And there are many more dimensions to the analysis that will clarify what's going on that we'll be sharing with our clients. These include analysis of device and browser types to the more detailed demographic and sector data that could help retailers further optimise their performance in the months to come.
Conclusion
As ecommerce retailers become more and more central to the everyday needs and quality of life of the nation, they need as much support as possible to ensure performance and customer expectations are being met.
Digivante are here to help you test, analyse and benchmark your performance in these challenging conditions. We can give you the confidence to optimise existing experiences and rapidly roll out vital new services to a public who are increasingly reliant on them.
Liked this blog? You may be interested in reading about post covid-19 recovery.