The digital economy is booming, right? Not necessarily. As lockdown and the restrictions associated with Covid-19 continue, some online businesses are thriving – while others have watched their revenues plummet.
New research from Digivante
Digivante has analysed Google Analytics data for more than 100 UK and US online companies from April 2020 and compared it to traffic rates from both April 2019 and February 2020.
The resulting info-graphics track the effect of Covid-19 on specific ecommerce categories and sectors, including a comparison of the US and UK markets. These insights connect the pre and post-Covid world, highlighting where digital losses have been suffered and where other opportunities may lie.
Feb 20 compared to April 20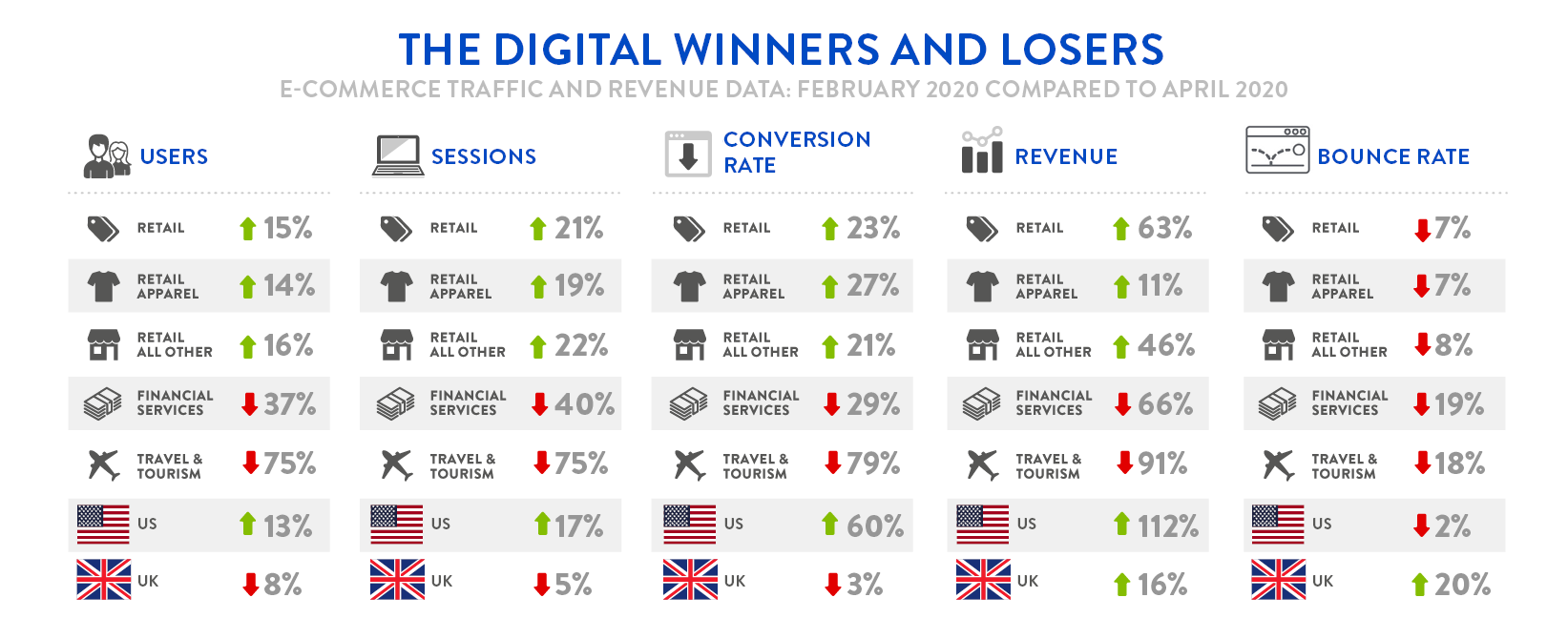 *Google Analytics Data on over 100 retail, travel and financial services brands
April 19 compared to April 20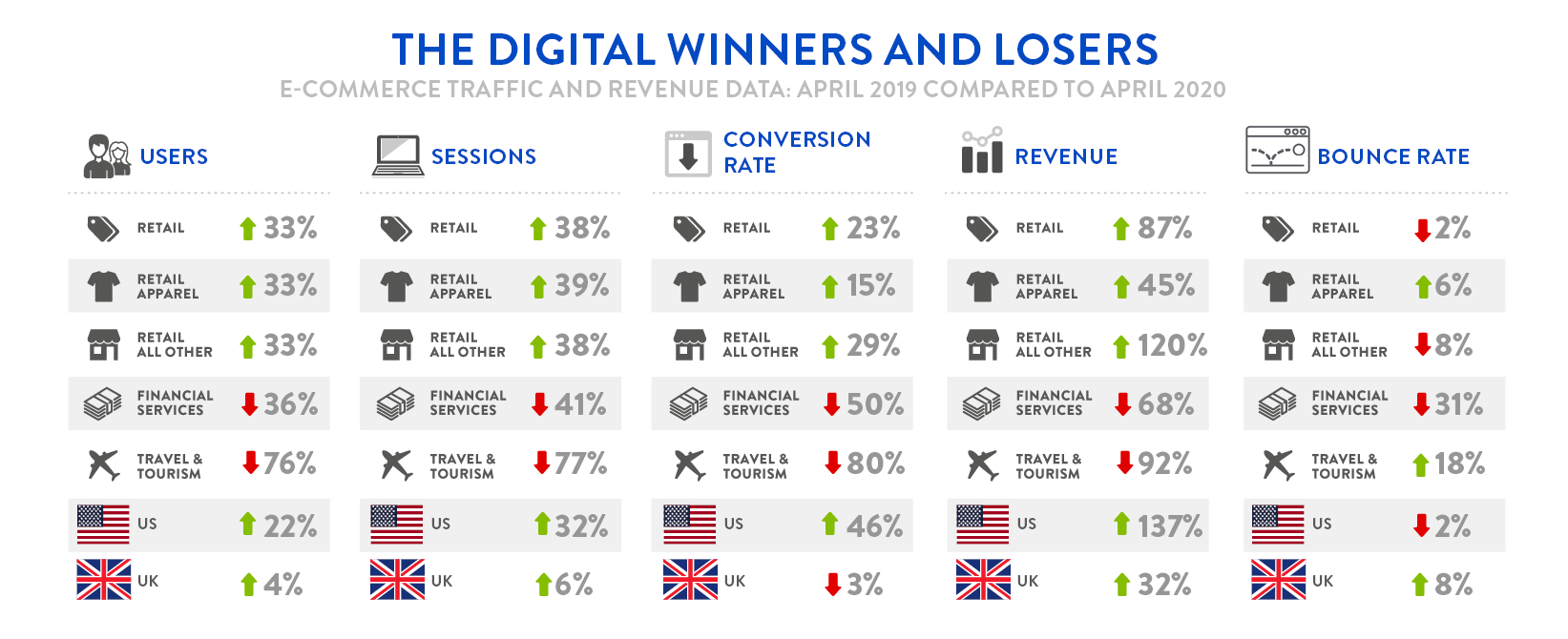 *Google Analytics Data on over 100 retail, travel and financial services brands
Perhaps unsurprisingly, the travel and tourism sector is the worst hit, suffering a revenue loss of more than 90% compared to figures from both February 2020 and April 2019. The bounce rate for February 2020 is also startlingly high compared to April 2020 – standing at some 135%. As lockdown continues, are people starting to give up all hope of booking a break away?
The financial services sector is another lockdown loser, realising significant revenue losses of roughly two-thirds when we compare both April 2019 and February 2020, with the insurance sector hit particularly hard.
In contrast, the online retail sector is entering a boom period. This is clear when comparing April 2020 to both the April 2019 and February 2020 figures – the number of users, sessions, conversion rates and revenues are all increasing.
Retail bounce rates are generally reduced too. This is not surprising – with many physical stores still shut or operating under social distancing restrictions – people increasingly rely on online shops, knowing they don't have any other option. Consumers can't just pop to the shops anymore but, as lockdown eases, it will be interesting to see if the ecommerce sector can sustain this popularity.
With all of this in mind, let's explore our wider analysis, which has thrown up some interesting insights, for different sectors and individual stores.
On your bike
With many people going outdoors to exercise, the cycling industry is booming. The BBC puts this growth down to a rising fear of catching Coronavirus on public transport, reporting a rapid rise in cycle-to-work schemes.
From our analysis, UK cycling retailers have seen massive growth between February and April 2020, with two companies each recording a 244% and 144% rise in user numbers. That translates to a £5.6 million (560%) revenue increase for one company for the last two months, compared to £2.4 million (276%) for the other.
The exercise bug has also bitten the apparel sector. One sneaker and trainer company has seen a £2.6 million (280%) revenue increase over the last two months. As the world decides to don leisurewear over high-end brands, other apparel companies have realised similar revenue increases – with the FT reporting fashion and luxury industries are bracing for a downturn in 2020.
Not all sports companies are succeeding – a major premier league football team is one of the biggest Covid-19 losers, according to our analysis, with ticket sales revenues plummeting from just under £1.5 million in February to £232 in April 2020.
Going nowhere
Thanks to ensuing lockdowns in both the UK and US, the travel and hospitality industries have nosedived.
The travel industry has seen its revenues slashed with one cruise operator seeing a reduction from just over £80,000 in February 2020 to just £400 in April 2020. A UK coach operator has also seen its revenues shrink to practically nothing too – from £11.9 million in February 2020 to just £121,000 in April 2020.
Andrew Lloyd Webber isn't the only one reportedly feeling the pinch from empty theatres. One entertainments ticketing services company has seen its revenues plummet in the last two months. In February 2020, revenues were just shy of £44 million. In April 2020, they were just over £1.7 million.
With no one travelling further afield than their back garden, this has had a knock-on effect for the insurance sector. One insurer has reported losses across its sports, golf care and music insurance arms. Another online car insurer has also seen an 89% dip in revenue, comparing February and April 2020.
Looking good (and bad)
Fashion and beauty businesses have had a mixed couple of months. As we all mourn the loss of our high-street barbers, a major hair care electronics brand has seen a revenue increase of 135% in the last two months, bringing in more than £4.9 million in April 2020, compared to £2 million in February 2020.
Another fashion jewellery and accessories business in the US has increased revenues by nearly £1 million in April 2020, compared to February (235%). The stats for its sister company in the UK are similar, with a £940,000+ revenue increase (206%) for the same time period.
But not all beauty businesses are thriving and a leading UK make-up company is one of the major Covid-19 losers. When comparing February and April 2020 its revenue has shrunk to near-zero, with a reported revenue of just £52.50 in April 2020. In February 2020, its revenue was more than £625,000.
Conclusion
The ecommerce sector is here to stay. It has now established itself as a crucial resource for many people – with the retail industry gaining the most from the restrictions surrounding the ongoing crisis.
However, ecommerce is now an increasingly competitive arena thanks to Covid-19. Due to increased demand, a broader range of players are moving into the digital domain and upping their online game entirely. It's survival of the digitally fittest and, if your online arm is not fit-for-purpose, your entire business is now under threat thanks to the lack of offline options in our post-pandemic world.
That's where Digivante can help. We are a leading analytics and testing company that can ensure your websites and apps work first time, every time. Regardless of the device your customers use, we can increase your online conversion revenues and boost your customer satisfaction levels.
If you'd like an audit of your website and applications to keep your online operations fighting fit, please talk to a Solutions Consultant.
Have you read the next in the series? Read it here!