Auto-parts wholesaler, Allmakes 4×4, embarked on a major strategic change to create their first-ever B2C ecommerce website in 2019. The concept of a car parts wholesaler selling direct to consumer is a new concept to the industry and, as such, the website had to provide an exceptional, easy and intuitive experience for Allmakes 4×4's customers.
Their digital team has a wealth of experience and were all too aware of the potential risks of defects that would impact their customers' experience. With limited QA resource and strict deadlines to get the new site launched, they engaged Digivante to test at scale across all potential platform combinations within a very short space of time. With the ethos of: you only get one chance at a good first impression, it was vital that on the day of launch the site did exactly that!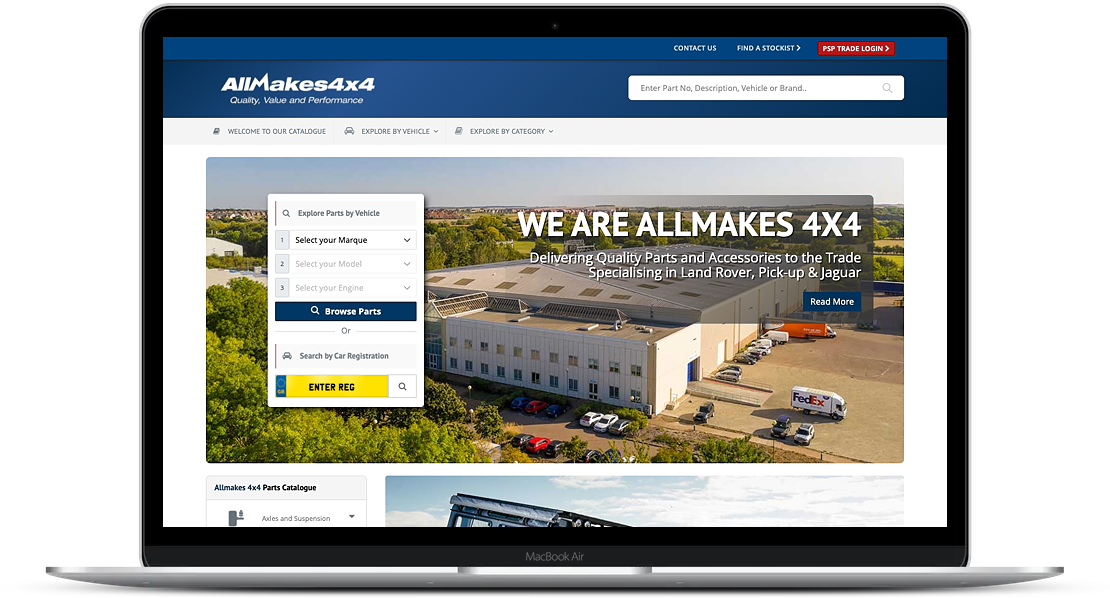 "Partnering with Digivante meant that the pressure was off when it came to the mammoth task of testing our new, highly anticipated ecommerce site. They helped us deliver a website that is not only functional, but optimised in terms of user experience and simplicity."
Mike Hands, Managing Director, Allmakes 4×4
Functional audit tests
To ensure that the new site launched with the best possible outcome, Digivante ran two cycles of functional audit tests, deploying large teams of professional testers covering hundreds of real platforms.
Whenever any changes are made to a website or an app, the risk of new defects becoming apparent to the end user are significantly increased and, as such, a second cycle is always advisable to ensure the defect fixes from the first cycle have not created new issues. Digivante has found that on average if you find 100 defects in the first cycle you will typically get 34 new defects in the second cycle.
It was also vital that all defect reports helped speed up the process of fixing. All reports provided by Digivante go through a 2-stage verification process to ensure they are reproducible, and they were supported with video evidence and clear steps for Allmakes 4×4's developers to duplicate.
Testing completed in just 6 days
Took advantage of industry change and overtook competitors
With testing we could ensure a flawless digital experience
24 conversion and 139 CX issues
Test results
Cycle 1: 255 professional testers, 342 real platforms, 149 workdays of testing – all within 72 hours. 127 defects were found, including payment issues, crashes, broken links, layout issues, validation issues, incorrect search results as well as a range of others.
Cycle 2: 244 professional testers, 290 real platforms, 117 workdays of testing – all within 72 hours. 36 defects were found which included payment issues, incorrect results, checkout issues, layout issues as well as a range of others.
In total 499 professional testers were deployed to test Allmakes 4×4's site, covering over 350 platforms and providing them with over 260 days of testing in just 6 days. This ensured that the website launch was not delayed and resulted in the successful launch of their first ever ecommerce website.