High expectations of digital users
Challenged with the ever-evolving needs and high expectations of digital users, as well as fierce competition from the likes of ITV Hub, iPlayer and All 4, Channel 5 began digitally evolving their on-demand app service My5, with a high-level platform restructuring and functional testing plan that aimed to improve app functionality across all 3 versions of their app (Android, iOS & Amazon Firestick).
With a very short release deadline quickly approaching, Channel 5 enlisted the help of website testing service Digivante to ensure the functionality of their apps across all the devices and operating systems.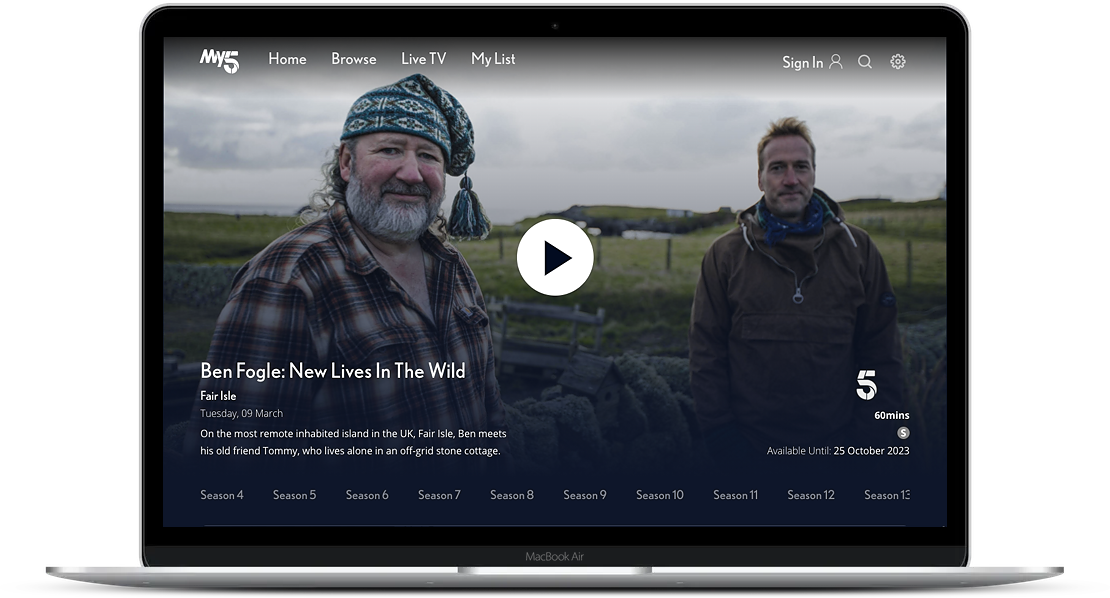 Seamless functionality at launch
To ensure that the seamless functionality of their new My5 platform would work as intended once launched, Digivante deployed a large team of expert professional functional testers on over 600 different devices, including iOS, Android and Amazon devices. Over the course of 6 days, 3 separate tests were sequenced across the 3 key platforms which were all collated into one reporting system, hosted on the Digivante portal.
Due to the nature of development, Channel 5 often had to push back deadlines to ensure a prestige level of quality and avoid bottle-necking their development cycles. Digivante continually matched Channel 5's changing timeline and were able to postpone the launch of their tests at very short notice due to their dedicated internal and external teams.
"Despite multiple delays from dev, Digivante were flexible and supportive of our requirements and provided extremely short turn-arounds when we were ready to execute the tests."
Declan Clarke, Senior Product Manager, Channel 5
Speed and simplicity
A total of 79 issues were found throughout the functional test (37 on iOS and 42 on Android & Amazon Fire Stick) including incorrect results being displayed, error pages and potential site crashes. The issues were reported in order of severity, supported by screen recordings and clear re-production steps, designed to help Channel 5's development team understand the type of issues present and where they were impacting users – minimising the amount of time Channel 5's internal teams spent fixing the issues.
The speed at which the testing was completed, and the simplicity of the reports allowed Channel 5 to launch the app at the earliest possible time with confidence.
Testing turned around in 3 days
My5 apps tested on every relevant device and platform
Summary report with prioritised list of issues to be fixed
10 critical, 19 conversion and 50 CX issues