Report: Master These Core Enterprise Capabilities to Advance Your Digital Transformation
According to Gartner "Digital transformation leaders are emerging, achieving growth and enterprisewide competitive advantage by excelling in strategy and execution. CIOs can learn about five transformative enterprise capabilities underpinning their success, as shown by our in-depth research with leading organizations."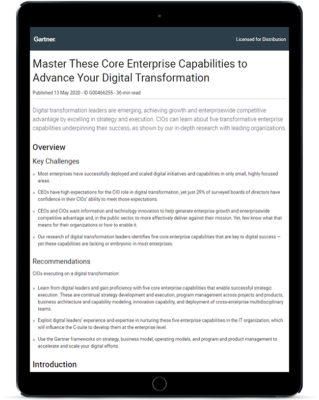 "CEOs and CIOs want information and technology innovation to help generate enterprise growth and enterprise-wide competitive advantage. Yet, few know what that means for their organisations or how to enable it."
But it doesn't have to be that way.
"CIOs can learn about five transformative enterprise capabilities underpinning their success, as shown by Gartner in-depth research with leading organisations."
¹ Source: Gartner, Master These Core Enterprise Capabilities to Advance Your Digital Transformation, Donna Scott, Irving Tyler, Dale Kutnick, 13 May 2020
Disclaimer: GARTNER is a registered trademark and service mark of Gartner, Inc. and/or its affiliates in the U.S. and internationally and is used herein with permission. All rights reserved.
Access your download
To read the Gartner recommendations on mastering core Enterprise capabilities to advance your Digital Transformation, fill in your details for complimentary access to this report. No Spam.
Explore a collection of guides, eBooks and other resources that share Digivante's thought leadership on Digital Transformation and QA-related topics.